FILM GRIHALAKSHMI – THE AWAKENING (MARKETING & RELEASE STRATEGY) AN APPEAL
After 5 successful screening of the Film Grihalakshmi – The Awakening, Team Immaculate gathered reactions/responses from over 650 People who watched the film, both Sahaja Yogis & Non-Yogis. At the outset, they all liked the film very much, and interestingly even the Non-Yogis (New Seekers) liked the film very much. They were very appreciative of the message of the film, and this was very encouraging.
Bollywood Film Fraternity
In addition, the film was watched by People from the Bollywood Film fraternity. They ranged from Technicians to Film Directors & Producers. Their feedback too was encouraging. What they appreciated, was the New Content feel they got from the Film. Having taken views from a cross-section of viewers, including those from the Film & TV Industry, we inferred that Team Immaculate can tread on a time-tried out path where the journey may be time-consuming, but is a sure way to reach out to all those who matter (Particularly the Sahaja yogis), who can propose this film to larger audiences worldwide. Thus, emerged an action plan to be executed forthwith.
Action Plan to spread the divine message
High on technicality & strong in content, the film promises to deliver the Message of our Divine Mother in the highest echelons of Cinema Exhibition ie. Movie Theatres Worldwide. Direct entry to the Cinema theatres is highly expensive and hence an unaffordable proposition, presumably equivalent to the amount spent to produce the film.
Considering the 100% Non-Profit nature of our NGO (totally dependent on Donations), it cannot justify such a humongous cost to its donors & lenders without a proper recovery plan. Their hard-earned investment (despite the Tax Benefits they enjoyed under Section 80G) should be rolled back instead of being written off in the making & release of the film. Besides, almost the entire crew, who did not demand a penny for their creative contribution, also need to be given some compensation as a blessing from our Divine Mother.
Recovery Model Of Release
This has prompted us to consider a recovery model of release, where we give our donors/lenders an option to continue to be associated with the NGO, that which is sustainable & can continue to churn out more & more such films covering the vast ocean of knowledge bestowed in the various teachings of our Divine Mother. Our sole mission being to create a Cinematic Habit of Movie Goers to go & find real-time solutions to the problems posed by this complex life by making it Sahaj (Simpler) for them through depiction of many dimensions of Sahaja Meditation that can help them transform their lives into Joy & Well-being.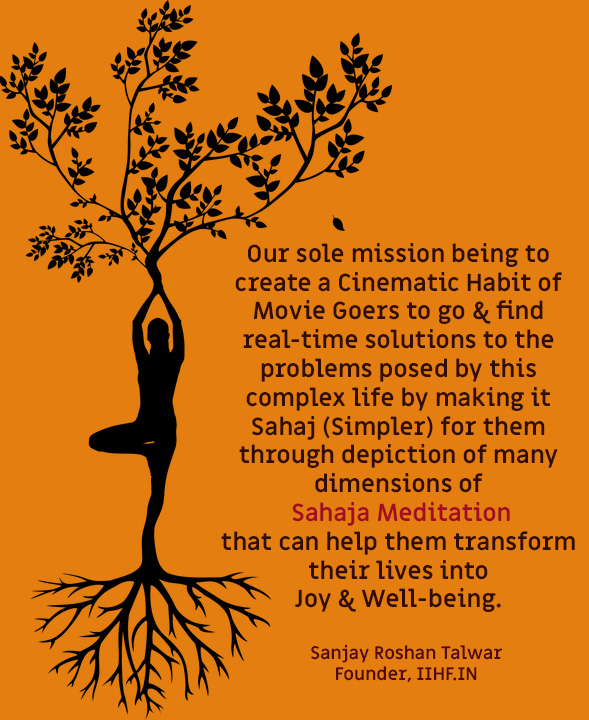 By creating an environment of fearlessness through such empowerment, we propose to instil a new-age dynamism in our viewers who have the potential to contribute to a strong & robust society – The ultimate mission of our Foundation.
Hence, taking up challenges faced by 'New Content Film Makers" we experiment & explore carefully, all means to help us achieve our ultimate goal – The Cinema Theatres.
This paves the way to undertake a drive to make the film visible to as many Sahaja Yogis as possible. By watching the film, they will develop a Pure desire to show it to their brethren & seekers of truth PAN India & Overseas. Our biggest strength today is our Sahaja Sangh spread across several states in India & nations worldwide. In conclusion, they are going to be our best promoters & through them reach out to a huge lot of seekers & new comers out there.
So, we have decided to show the film to all the Sahaja Yogis across board, in a phased manner. This will require a strong network of Team Immaculate to execute this plan. We hope to achieve a ripple effect before we actually get the film on board the Cinema theatres.
As a first step, we invite all collectives through their respective Meditation Centres in India to show the film to each and every Sahaja Yogi. The real challenge will lie on how will we be able to manage such Screening Roadshows in so many centres without leaking the film in the open market. As surrendered children of Mother, we shall leave it at Her lotus feet to work it out, by simply expressing a pure desire.
These Screenings will help us reach to all Sahaja Yogis of India over a span of time. Our honourable Donors & Supporters are expected to come forward and take the initiatives in their respective collectives to bring forth screenings as soon as possible. In this way the word will spread.
Those Yogis who will watch the film will get motivated to do their bit in taking it to more places, using their own pure desires. In due course, the film shall become more visible to all Sahaja Yogis , new comers & seekers of Truth, when efforts to arrange Self Realisations & Public Programs are combined at the end of each screening.
We have prepared a Marketing & Promotion plan, that will run parallel to the screenings across India. Our Designers have made Poster & Social Media Designs which have been uploaded in our website www.iihf.in
These can be used for extensive publicity. Team Immaculate will begin promoting these through its Facebook page to all SY & other Groups in Social Media to widen awareness of the film. We will request our brothers & sisters, who have watched the film, to individually promote the film through Facebook & other social media platforms to their own contacts. This will lead to a major awareness drive.
Simultaneously, we will explore the possibility to recover our investment in the film by proposing its total/partial rights to "on-line" portals launched by several TV Channels.
By tapping the latest trend in the Digital Media promoted by TV Channels & on-line Distribution Companies, we will explore opportunities available to all New Content Film Makers to promote their films. We shall propose for a complete buy-out, if we can acquire a good value for the film. This will enable us to rotate funds and plough them back into a series of more films.
We have identified some TV Channels & other On-line Companies that pay well. These are Sony Live, Zee5, Amazon Prime, JioCinema, Voot, Netflix & many more Internet based on-line e-platforms. An On-line Screening facility is offered by many of them to hold film previews, (one that bars downloads but allows watch & review) for the various decision makers & Committees set up to invite our film for the various film Festivals of the world.
There is no dearth of New & Fresh content film entering the market and making their way into the traditional Theatres after picking up several awards from Film Festivals. This model can be replicated in India simultaneously. This can help us garner support of the Indian Government & Media in giving our film some recognition in the market & create a hype about it before launching it in Theatres.
We see before us a massive task, achievable only with the help of an active & collective team-work from within our Sahaja Sangha, to come forward and offer their time, money & expertise to make our mission a success. If you possess any or all of these virtues, then please join our Foundation as part of its active team to push forward a befitting release of our precious film GRIHALAKSHMI- THE AWAKENING.
You can join us as a creative person, as just a donor (responsible for fund collection) or become a part of its Management by becoming a Trustee. The time is here and now for you to come forward and propose your contribution. Just like we were able to build a creative team to produce this film, I'm sure we can manage it best with this new team. We have to do it fast. So please give me your names, number & interest (where you will be able to help specifically – define your role) and write back to me in the next 7 days at immaculateihf@gmail.com or send me a Whatsapp or SMS message at 9811203017. Feel free to call me anytime and let's talk about it.
 Jai Shree Mataji
DONATIONS CAN BE MADE TO
Immaculate Ideal Human Foundation
A/C No.: 6147002100000193
Bank: Punjab National Bank
Branch: Delhi Gymkhana Club
IFSC Code: PUNB0614700
Or
Immaculate Ideal Human Foundation
A/c No. : 201002318166
Bank: Induslnd Bank Ltd.
Branch: Sector-23, Gurgaon
IFSC Code: INDB0000608
A 100% Non Profit NGO
All donations are exempt under section 80G