ABOUT FILM PROJECT "GRIHALAKSHMI" – CURRENTLY UNDER POST PRODUCTION
PRODUCED BY: IMMACULATE IDEAL HUMAN FOUNDATION -100% NON PROFIT NGO
Sanjay Talwar, Managing Trustee, spent his early years with HH Shree Mataji Nirmala Devi, who granted him his Self Realisation, empowering him with a deep spiritual experience that changed his life, bringing joy, peace & contentment. He learnt a Technique from her, on how to raise an inner power called Kundalini that raised his consciousness to merge with the All Pervading Collective Consciousness, into a state of thoughtless awareness.
This was a specific state of Meditation called Sahaja Yoga, through regular practice of which, in these last 34 years, he went through a process of tremendous transformation, taking him higher and higher into a state of Super Consciousness, where one merges with the all-pervading source of energy, becoming one's own master & capable of handling one's own life without fear, but with confidence – A joy of leading one's destiny to the very purpose of human existence. Be it any situation in life, he discovered that one can lead a healthy, happy & contented life if any human being had a pure desire, he could achieve the impossible by regularly practicing Sahaja Yoga Meditation.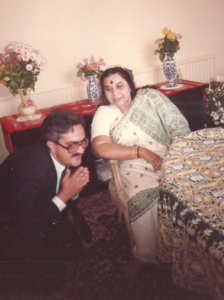 Not only it empowered his own life, but at a collective level, it started changing & impacting lives of all those he connected with, or wished to help. He understood, that if he could somehow reach out to all ordinary citizens of the world with this message of Sahaja Yoga Meditation, it could bring a tremendous change in all humans, resulting is world peace, security & prosperity for all. This could bring a great social revolution in a strife torn society, plagued with hatred, wars, discrimination, terrorism and crime – Something that a common man is deeply concerned about and is seeking all kinds of remedies, including spirituality.
With so much bad news circulating in our & Films, we are virtually drowning in so much negativity, that we do not realize how this is impacting our lives, our health, our relationships and our inner spiritual being. It's being destroyed. It was high time to create an environment of good News to counter this menace.
Immaculate Ideal human Foundation embarked upon this mission to bring enlightenment to the entire world, with the simple teachings of HH Shree Mataji Nirmala Devi as her gift to mankind in these modern times. They put together a team of Creative artists from among the best talent in Bollywood, who practice this meditation, and who collectively felt responsible to share their spiritual growth to audiences across the globe, through the narration of simple stories in the form of short Feature Films, introducing the concept and throwing light into this amazing world of self-empowerment to bring about a positive social change. Seizing this opportunity to introduce this amazing impact they had felt in their lives, they created Grihalakshmi – The Film. They put in all their awakened energies in this film with a bid to entertain audiences through a very simple story of two sisters of a very simple family, who are sucked into a life of turmoil, till they discover the path of Self Realisation, and in that process, discover the beauty of life & living.
Grihalakshmi is the principal of basic dharma within us that binds us with each other with the thread of love, compassion and benevolence. She is the Mother Energy of the Kundalini Shakti we are born with. She manifests when the Kundalini rises and nourishes the Nabhi Chakra on the left side of the sympathetic nervous system. This manifestation becomes visible through a transformation that is experienced by the one who practices Sahaja Yoga Meditation daily. The process is gradual, but permanent, as it raises the level of human awareness into a higher level of consciousness called collective consciousness. It helps an individual to display a very powerful countenance that is supported by the divine supernatural force -A force that is behind all creation- one that runs and manages the entire universe since the beginning of time. It is the birthright of all humans born on earth to acquire this power and give meaning to their lives. 
Film Gruhalakshmi is the beginning for working out Divine Mother's love through the medium of Cinema. It is anticipated to be the first of its kind feature Film ever made on Sahaja Yoga Meditation, introducing the concept in Mother's own voice. It's the story of an ordinary family that gets empowered through Meditation to attain wondrous heights. For once our cinema will talk about pure love, pure desire and pure joy of living. Every artist on screen and off screen has given his and her heart and soul to this film. The film challenges the way cinema is made and viewed in these modern times. It is thought provoking. It nudges you to have another look at your life. It prods you to become a part of a larger family. To go beyond your own family into a family where the whole world is yours. It is new content cinema being introduced for the very first time through an entertaining film with a deep message. This life-changing content can transform our world of Cinema, which is dominated by lots of adharmic and negative ideas.
 Quips Sanjay: "Having gone along with my own awakening since 1984, today I feel the presence of Shree Mataji at all times. My heart reaches out to love everyone. All that now gives me joy is to find out how I can keep sharing this love and see it grow in the hearts of all seekers of Truth. Even those who just come in contact with me should feel Mother's love. Sahaja Yoga Meditation is the only way our world will unite as one family. It overwhelms me to be a part of the collective effort to create the Film Grihalakshmi. It is a small and humble attempt to create a stir and give a wakeup call to all. "I hope it will touch many hearts and will be a source of joy to many people, who seek entertainment through watching movies. But here it goes beyond entertainment. It takes you to a new high. It shows the power of innocence, of simplicity and of collective consciousness. It helps you to go deep within and search out your real self – your true Self. It's a kind of Self Discovery through Self Realisation. I sincerely hope you will enjoy this film"
Watch him speak on You Tube, about how he started the NGO – IMMACUALTE IDEAL HUMAN FOUNDATION:
https://www.youtube.com/watch?v=RzZ–5AzDII
https://www.youtube.com/watch?v=lUzKhn_Fnwg&t=23s
https://www.youtube.com/watch?v=bLiVpndd_Y8
Here is the link for its Trailer: https://www.youtube.com/watch?v=hronhy9hYLM

Do watch it, and if you like it, help us complete the film, as it is lying on the final editing table for want of more funds. We never anticipated that we would make a full length feature film. Originally, it was planned for just a short 30 min film for You Tube, but in the process of its shoot the story kept evolving each day into a dynamic screenplay that kept taking it to new heights of creative expression- be that of the Screenplay writer, Director, Cinematographer, Line producers or the actors. All were in perfect synchronization to make a perfect film dedicated to their divine Mother, with each heart aspiring to give its best. The best part was, when the creative team kept shooting beyond the limits of the script. It was like some sort of divine force taking over their creative inputs. All the actors and crew members just kept going along. Where we were scheduled to shoot a single shifts of 8 hours per day, we continued to shoot for 16 hours at a stretch each day. The total time scheduling was for 6 days, but carried on for 10 days. Every team member just kept flowing with the tide, till we finally realized that the film could turn out to be a 70 min full-fledged feature film. Such was the power or spontaneity, and divine intervention, that we all just knew that only Shree Mataji herself could get this film made.
The 10 Day continuous shoot of the film was done in a record budget of just Rs. 13.00 Lacs, where a team of over 45 Crew Members worked tirelessly. Not one Senior Crew Member – from the Director, Assistant Directors, Script & Screenplay writers, Directors of Photography, Cinematographer & several Actors ( 12 of them) , not one of them took any gratification for the film. Even the 3 main shoot venues were donated. The money was mainly spent on the junior staff, daily wage labor, Travel – Transportation, Food & Accommodation, besides studio charges for music & editing.
Having seen the way the Film Teaser has come out, the entire team feels that it requires an equally good technical treatment to present an excellent product for viewing. An initial Budget to make a half an hour 'You Tube' short film, now appears to turn out into a 70 min film, wanting to position itself on the silver screen for larger audiences worldwide. Each crew member experienced his or her own awakening in the process of its making, with several observing some near miracle events. Such was the power of pure desire to create a new kind of path breaking content.
In order for us to sustain the standard this film has attained thus far, we at Immaculate, want to give it the best possible technical treatment at the Post Production Studios, that now remains to be given, before it is ready for its formal release in Theatres worldwide. In the jargon to today's film making in Bollywood, the thumb rule for its cost budgeting is Rs 1.0 Lac per minute of production time. Considering this is now turning out to be nearly a 70 min film, Rs 70 Lacs would have been its budget, where all cost heads would be met. But due to a great deal of gratification donated by the Senior Crew Members, this cost has come down to a mere Rs 24-25 Lacs (approx. one third).
At this stage, we are short by Rs 5 lacs.
We appeal that you to join us, in our mission in your own small way, so that together we can try to make a difference to the society & the world we live in – Wanting to make it better, safer & joyous for all. Your support as a donor/ Financier/ Collaborator, will go a long way in helping us bring out a good quality film with a new look content based on the inner spirituality of man.
It is only possible through the collective contribution of all of you.
Inspired by & dedicated to the lotus feet of our Guru and our divine Mother – HH Shree Mataji Nirmala Devi
You can Donate via

Crowd Funding Platform link: https://immaculate.ketto.org/fundraiser/SahajaYogaMeditation
Or http://ket.to/SahajaYogaMeditation
Or
Send your Donations directly to our bank accounts as under:
BENEFICIARY: IMMACULATE IDEAL HUMAN FOUNDATION
INDUSIND BANK LTD, Sector 23, Gurgaon.
Current A/c Nr: 201002318166
IFSC CODE: INDB0000608
PUNJAB NATIONAL BANK, Delhi Gymkhana Club, New Delhi
Current A/c Nr: 6147002100000193
IFSC CODE: PUNB0714700
Whenever you donate, please remember to provide your full name, address, email id, mobile number and PAN Number mentioning the amount you have donated to my Whatsapp nr 9811203017 or mail to immaculateihf@gmail.com to obtain your instant receipt.
Jai Shree Mataji
IMMACULATE IDEAL HUMAN FOUNDATION (100% NON PROFIT NGO)
Govt. Certified under sections 12AA & 80G of the Income Tax Act.
+91 9811203017 (C/o Sanjay Talwar)