Navodit Kalakar Samiti – Welcomed Aditya Nirmal!
Aditya Nirmal is a special child –  21 years old having learnt classical music from his Guru Pandit Samresh Chaudhary from the age of 6. Today he has mastered the art. He performed live on 30th June 2018 in the Navodit Kalakar Samiti, monthly Baithak, a program that was sponsored by Immaculate Ideal Human Foundation. All were requested to encourage this young lad to rise in life. His blindness is since birth, but his acumen and understanding of music is Immaculate.
On the night of 20th June, 2018,  Khalifa of Delhi Gharana Ustad Iqbal Ahmed Khan ji gave his blessings to Budhaditya!
Very soon Immaculate Ideal Human Foundation will release his concert on You Tube Channel for the benefit of all music lovers. His music was so Divine that the entire audience was drenched in vibrations. Even the great Music Maestro of Delhi Ustad Iqbal Ahmed Khan Sahib was compelled to sit through his spellbound performance. His appreciation and invitation to Aditaya to his Amir Khusro Music Academy at Daryagang was like a miracle in Aditya's life. It was his life cherished dream to meet this great Meastro of Classical music, which came through.
We all went with him to his Academy, where he gave one hour of his time exchanging musical notes with Aditya, blessing him again and again and then providing invaluable advice to him on his performance. A well known Bollywood Music Director who had come from Mumbai was taking lessons from Ustad Khan, when he was informed about Aditya's upcoming concert. He left his student's class midway to witness Aditya's concert.
Later when we went back with him to his Academy, we saw him teach his student finer aspects of classical music – he who had waited patiently for his music Guru to return and resume his class. We all who went to his Academy and witnessed his class. Later we proposed to him to take Budhaditya under his professional care and help him with his career, he readily agreed to consider.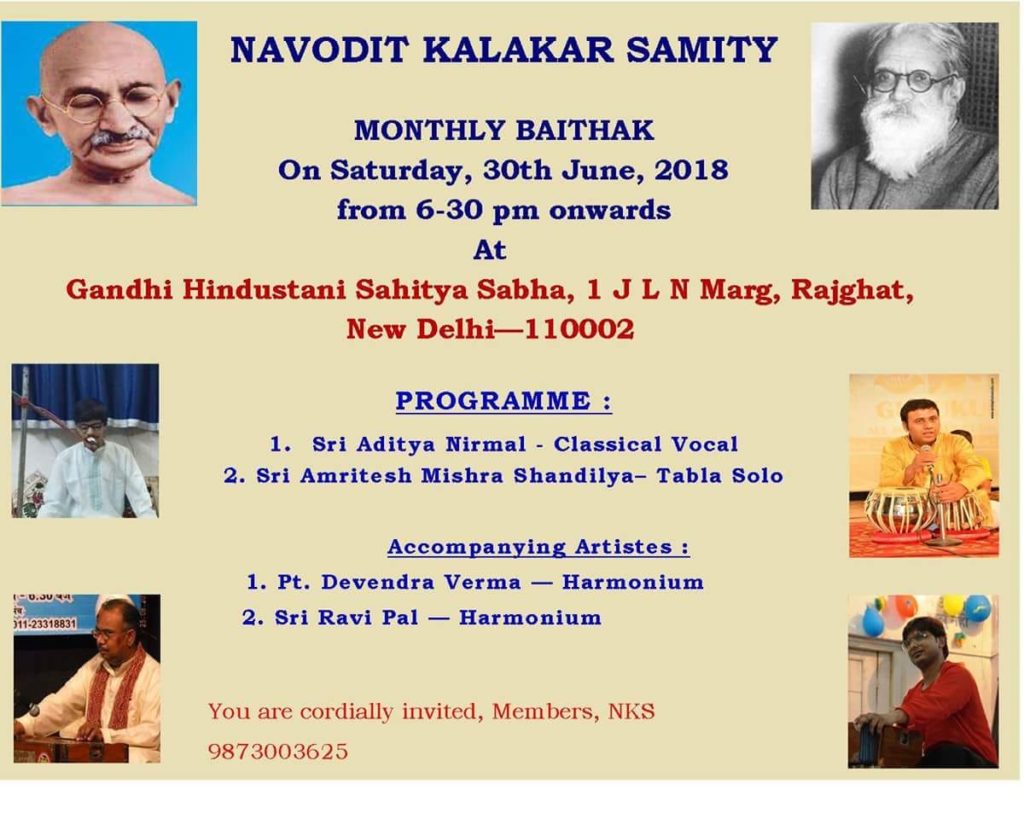 Our Foundation offered him all kind of support to make this into a reality. Ustad ji, looked quite positive, but remained non committal, since he was leaving for London to give a concert in 2 days time. But he gave an assurance that upon his return to Delhi on 08th July, he would look into his prospects and then consider helping Aditya.
Let's all give Bandhans to this prospect for Aditya. May his dreams come true. We all know he is a born prodigy of Classical Music. Besides, his immense knowledge for Classical music, that he has been sharing with you all, he is a very humble and a very deep Sahaja Yogi.
His bright career, will open doors for the Sahaja Yogis of the world to take notice of his talent at this tender age of 21.
His next performance is scheduled on Sunday 08th July at the Noida Health Center in the morning at 10 am. Those of you who missed out this time, don't forget to be there. I can say with surety, it could be one of the most memorable experiences for you to hear him perform. Shree Mataji, who now resides in our hearts, would certainly be very happy for Aditya, because when you will bless him, he will get Her blessings.
Let's all pray for Aditya and support him.
Jai Shree Mataji
Sanjay Roshan Talwar
Managing Trustee Immaculate Ideal Human Foundation